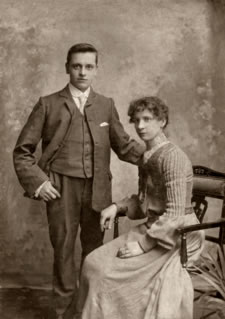 The Huron Historical Society receives many requests each year for assistance with genealogical research. Please allow about four weeks to receive the information.
For Your Information
Obituaries from the Erie County Reporter and later the Huron Reporter are available from 1880-1995. Please try to be as specific as possible. The Rutherford B. Hayes Presidential Library has a web site that may be of assistance. There is a $2.00 charge for each obituary.
Information about cemetery burials before 1909 is available at the Huron Historical Society. For information about cemetery burials after 1909, please contact the Huron Township office at 419-433-2755 or write to the office, c/o Bogart Road, Huron, OH 44839.
Death certificates are available for persons who died in Erie County from 1907. Contact the Erie County Health Department in writing, c/o 420 Superior Street, Sandusky, OH 44871. There is a charge for this service.
Prior to 1838 Huron, Ohio was in Huron County. Marriage licenses, wills, immigration, death, and birth records are available from the Probate Court, Huron County Courthouse, 2 E. Main St, Norwalk, OH 44857. Contact the Erie County Probate Court, 323 Columbus Ave., Sandusky, OH 44870 for dates after 1838.