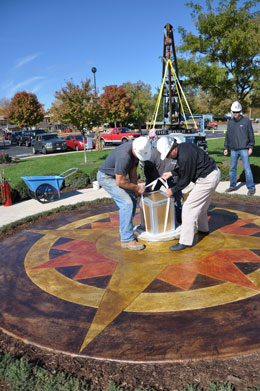 The crisp, sunny October day was a perfect setting for the dedication of Huron's Bicentennial Marker and Time Capsule. About 75 Huronites gathered on the front lawn of the Boat Basin Building to witness the event at noon last Sunday, Oct. 17, just as church bells began to ring.
After the Huron's Scouting Groups raised the flag, Mayor Marilyn Shearer presented a fitting dedication proclamation honoring the event. Kathy Muehlhauser Moore, president of the Huron Historical Society, gave a snapshot of the memorabilia that fill the time capsule and explained that the items finally selected were to reflect life today in Huron.
Sharon Barnes, representing the Huron Bicentennial Committee, presented a vignette of Huron's history going back to 1809, when Thomas Jefferson was completing his Presidential term and Huron Township was first platted. By 1830, the Huron River became home to major shipbuilding, and as that industry declined the commercial fishing became the center of commerce for the next 50 years.  The ore and coal docks were developed.  In 1945, Eastern States Cooperative began building the mill and grain elevator. Both are scheduled for demolition in the near future.
City Manager Andy White described the exciting things to come to Huron as the city's profile changes and emerges into the next phase of life. Huron's Poet Laureate, Rob Smith read a poem he wrote especially for this occasion. In closing, The Rev. Wanda Ray, Christ Episcopal Church, provided the benediction, and blessed the city's new historical marker and time capsule, a voice of those living now to be heard by those living here in 2110.
As small children happily climbed on the black granite marker located on the spot of the time capsule, many stayed to enjoy treats of cookies and apple cider, and talk with old friends, contemplating Huron's colorful history and what life will be like when the capsule is opened.
The area marking the location of the capsule is beautiful, and everyone is urged to stop by to see it. The four-foot diameter black granite marker engraved on top with the bicentennial logo and on the sides with the theme of "The Lake, The River, The Land and The People" sits on a colorful, embossed concrete compass rose. The public can also stop by the Huron Public Library to see duplicates of the items that have been placed in the capsule – many of which were suggested or donated by Huron residents.