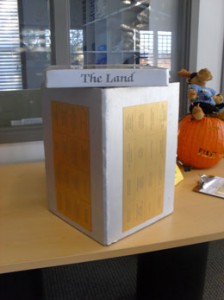 Don't miss being an "eyewitness to history" this Sunday, Oct. 17, at noon.  That's when the Huron Bicentennial Committee and the Huron Historical Society will host the dedication of the Bicentennial Memorial and the interment of Huron's Time Capsule.
The ceremony should take about 20 minutes, and everyone is encouraged to come and witness a part of history.
The capsule, fabricated and donated to the city by Janotta and Herner Inc., Monroeville, will be buried in the circle located in front of the Harbor Master's Office at the Huron Boat Basin.  A large granite slab, engraved with the official Huron Bicentennial logo, will be placed over the area where the capsule will be located. It is to be unearthed by descendants in 2109.
The following artifacts, which were donated by residents, businesses, schools and the city, have been sealed in the capsule with descriptions: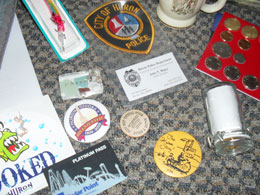 –    Coordinates for the Huron Lighthouse
–    2009 Huron Playhouse Playbill
–    Bicentennial collection of poems by  Huron's Poet Laureate, Rob Smith
–    2009 Cedar Point Pass
–    Watercolor Print of Huron Docks
–    Asian Carp newspaper article
–    Lucky Stone and Beach Glass
–    2009 Huron City Directory
–    HYC Burgee
–    Wooden Cut-out of Huron Lighthouse
–    Wooden Nickel from Wileswood Country Store
–    Fish Huron Ohio Sticker
–    Erie County CableSystem monthly bill
–    Taconite
–    Library Card
–    Houses of Chaska Beach Book
–    Sesquincentennial Mug and Button
–    Culinary Vegetable Institute Heirloom tomato seeds
–    Hahn Farm Sweet Corn
–    Wooden Plaque of Bicentennial Float
–    ConAgra Watercolor Print
–    Fishing Lures
–    Collection of 2009 Coins
–    "The Huron Story" Button
–    Ohio Graduation Test of 2009 and Eighth-Grade Graduation Test of 1895
–    Brochures of Sheldon Marsh STP, Old Woman Creek NER, McBride Arboretum
–    2010 Aerial Photo of Huron
–    Huron High School football field w/description of turf
–    Huron City Schools Wind Turbine
–    Huron High School yearbook
–    Huron City Police sleeve patch
–    Restaurant/Bar Menus
Duplicates of these artifacts will be on display at the Huron Public Library to remind the community that 100 years from now, descendants will be opening this capsule and taking a peek at life in Huron in 2009.